Thich Nhat Hanh and Jack Kornfield issues statement of support to Burmese monks
The Buddhist Channel, Oct 13, 2007
Los Angeles, USA -- On Oct 5, nearly 2000 Buddhists and psychologists gathered for a UCLA sponsored conference on Eastern and Western Psychology.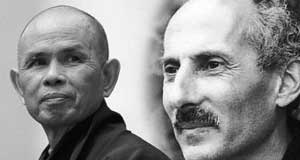 Out of solidarity with the monks, nuns and people of Burma, renowned peace advocate and Zen master Thich Nhat Hanh instructed his entourage of 60 monks and nuns to wear their ceremonial saffron outer robes, which they had last done on 9-11.
After the monks and nuns had chanted the teachings of compassion, Dr. Jack Kornfield described the grave situation in Burma. He then read to the assembly the following statement which had been drafted by Dr. Kornfield, Thich Nhat Hanh and other conference leaders.
Then in keeping with Buddhist tradition of council, all those in accord were asked to give their assent by standing silently. Everyone in the room arose without hesitation, including Governor Arnold Schwartznegger and his wife Maria Shriver who were in the first rows.
After standing in meditation, the entire group followed Ven. Thich Nhat Hanh in a walk of mindfulness and peace across the campus. Here is the statement:
---

The Full Statement
UCLA Mindfulness and Psychotherapy Conference, October 5, 2007
"As a conference of almost 2000 mental health professionals, we write this statement out of concern and solidarity with the monks, nuns, and people of Burma. In this time of great suffering, repression and imprisonment, we strongly support the Burmese people in a non- violent transition to democracy.
To do so, we urge the United Nations to create a robust multi-national fact finding mission to go into Burma, listen to the monks and nuns and all those involved, and tell the world what has happened and what is needed for democratic resolution.
We also urge the International Olympic Committee as organizers of the Beijing Olympics to require that China, Burma's main trading partner, do the utmost to support human rights and a transition to democracy in Burma at this time."