Founder of Lao Buddhist Sangha, Venerable Dr.Phramaha Phong Samaleuk passes away at 100
The Buddhist Channel, Oct 13, 2015
Vientiane, Laos -- The founder of Lao Buddhist Sangha, the Most Venerable Dr.Phramaha Phong Samaleuk, who is also the President of Lao Buddhist Fellowship Organization and of Wat Ongtue Mahavihara has passed away at the age of 100 years and 6 months, at 5.11 pm, October 7, 2015.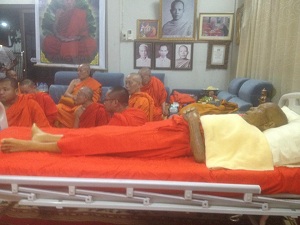 << The late Venerable Dr.Phramaha Phong Samaleuk (1916-2015) lying in wake at Wat Ongtue Mahavihara, Vientiane
The most Venerable Phong Samaleuk was a Sangha veteran of 81 pansa (vassa), Born on 10 April, 1916 in the village of Kungnoi, Thailand he was the sixth child of a family of nine children.
At the age of 10, he entered primary school at Kusakorn. He finished year 3 of primary school when he was 14 years old and then moved to Phonthong district, Champasak province, Laos.
When he was 15 years old, he went back to his hometown, Kungnoi village, to become a novice. He remained as a novice for 1 year and 3 months. He later disrobed due to poor health. After that he went back to Phonthong district, Champasak province, Laos.
At the age of 20, he again moved to his home town in Thailand and took a higher ordination as a Bhikkhu at Wat Phosy on 1 October B.E. 2479 under the preceptor of Venerable Rith, Venerable Xou, Venerable Suan, and Venerable Phoun (as Kamavacariya). Forty one monks also participated his ordination ceremony.
When he was newly ordained, he lived at Wat Siphonthong in Kusakorn village for 6 months. Later, on 8 April 2480 B.E, he moved to Bangkok for further education. There, he lived in Wat Chanasongkram for almost 16 years. It was here that he passed the Higher Dhamma studies and earned Pali-grade sixth (VI) certification.
The late Venerable Dr.Phramaha Phong Samaleuk had worked tirelessly for the benefits, happiness and well-being of the Lao people.
Notable contributions of the late venerable includes the following:
In 1977, he led a team of monks to work for social and rural development in three provinces: Khammuan, Saravan, and Savannakhet for 5 months.
In 1979, he was responsible for establishing the National Sangha Education and became the Director of the Sangha Teacher Training College (now Sangha College) at Wat Ongtue, Vientiane.
In 1980, he contributed for religious affairs in Xiengkhuang and built a Sangha secondary school there.
In 1981, he presided over the opening ceremony of Champasak Sangha High School, at Wat Luang, Pakse.
In 1983, he presided over the organizing of Sangha Administration in Vientiane province prefecture and handed over the Sangha Secondary School to the province.
In 1984, he contributed to religious affairs in 4 provinces: Bolikhamxay, Vientiane, Xiengkhuang, and Huaphan and established a Sangha Secondary School in Bolikhamxay.
In 16 January 1987, he went to Luang Prabang to establish the Sangha TeachersTraining College.
In 21 January 1987, he went to Bokeo province to build a Sangha Secondary School.
In 1990, he made a survey and collected some information in Bolikhamxay, Khammuan, Savannakhet, Xekong, Attapeu and Champasak for 3 months.
In 1996, he made a survey and collected some information in Xiengkhuang.
In 2013, he went to propagate the Sangha and political policy to the General Sangha Conference in Borkeo province, northern Laos.
In 1997 to 2013, he has been continuously leading the renovation, restoration and construction of Wat Ongtue.
He had constructed some primary schools, high schools for children in his hometown, Phonthong district of Champasak province.
He has led the construction of two forest temples, Wat Pa Phousamli, Wat Thamprachaokhok, at Phonthong district, Champasak province
He led and supervised the construction of Phonthong High School in which he also led the construction the building of Kindergarten School in the same this high school.
At the end of his life, during 2014-2015 he established a new forest temple, Wat Kao Lup, a forest temple and has a plan to construct the new building of Sangha Secondary School at Wat Sisavangvong, Phonthong district, Champasak Province.
His final activity was the participation of an international conference on "Buddhism Unites Suvanabhumi", held in Siem Reap, Cambodia.
The body of the late venerable Samleuk will be preserved for dedication ceremonies and for public observances at Wat Ongtue Mahavihara, Vientiane. The cremation ceremony will be announced within 3 or 6 months.