Search for inner peace
China Daily, March 13, 2007
Beijing, China -- "For quite a long time, I devoted all my energy to amassing a fortune. Now, I've found that a bigger fortune has not given real joy and happiness to me and my family," Chen Xiaoxu, a millionairess and famed actress, told local media before taking the tonsure (head-shaving ceremony) last month at a Buddhist monastery in Changchun, capital of Northeast China's Jilin Province.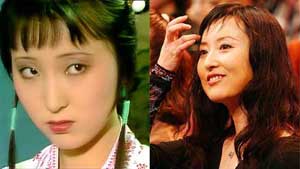 She was followed by her husband Hao Tong who also became a Buddhist monk last Thursday at a Buddhist monastery in Shenzhen.
The 42-year-old businesswoman Chen is best remembered and recognized by millions of Chinese audiences for her heart-wrenching portrayal of Lin Daiyu, in the 1987 costume TV drama series A Dream of Red Mansions.
Born in 1965 in Anshan, in Northeast China's Liaoning Province, Chen had a passion for Chinese classic literature, especially poems, since the age of 3. At 18, she auditioned for the TV drama series.
Asked why she wanted the role of Lin Daiyu, a melancholy and graceful beauty and ardent lover of Chinese poetry in the ancient novel, Chen replied confidently: "I am Lin Daiyu. If I took up other roles, the audience would think Lin Daiyu was trying to act as another girl." She won the role.
Directed by Wang Fulin and adapted from the best-known Chinese literary classic A Dream of Red Mansions, written by Cao Xueqin (ca. 1715-1763), the TV drama series became an instant hit and has had more than 800 re-runs on Chinese TV screens.
Chairperson of a major advertising agency in China, Chen has been a Buddhist for at least seven years since she attended a Buddhist lecture in Singapore.
Chen is by no means the only celebrity in contemporary China to become a Buddhist faithful.
Other prominent Chinese celebrity-Buddhists include kungfu stars Jet Li and Zhao Wenzhuo, veteran actors Zhang Guoli, Andy Lau and pop music diva Faye Wong.
Nor is Chen the first celebrity to take the tonsure.
For instance, Li Na, who became hugely popular for her soul-penetrating song Qinghai-Tibet Plateau, became a Buddhist nun in 1997.
However, Chen's choice has attracted the most intense public attention.
To dispel doubts and rumors of all kinds about her motivation, Chen had to issue a personal statement early this month, denying that she had taken to Buddhism because she was suffering from breast cancer.
"At this age, I have finally made the most important decision in my lifetime. I firmly believe it is the right path for the rest of my life Conversion does not indicate passivity or escapism. Rather, it is a proactive attitude toward my life," Chen wrote in the statement.
Over the past few years, many ordinary Chinese have made the same decision but have drawn little public attention, pointed out Kou Yaqiang, a Buddhist and a professor at the China Conservatory of Music.
"Why are so many people stunned and even puzzled by Chen's decision? It is because Chen is seen as a role model given her prestige, successful career, great wealth, and happy marriage. Her abrupt turn might have shaken many people's set ideas about life," Kou explained.
His observations were echoed by Wang Zhiyuan, a senior research fellow with the China Academy of Social Sciences and founding editor-in-chief of the Buddhist Culture magazine.
"Chen's conversion may have a deep impact upon Chinese women, especially the golden collars and pink collars who may be prompted to re-think critical, existential questions about fortune, happiness and commitment," Wang said.
The booming economy and social progress have brought dramatic changes to contemporary China, including the public view on religions such as Christianity and Buddhism, Wang told China Daily.
The past two decades have witnessed a growing interest among Chinese people in Buddhist culture, a vital part of traditional Chinese culture, he said.
"Compared with the past, people today have more tolerance, understanding and even respect for those who choose to be a lay Buddhist, a Buddhist monk or Buddhist nun," Wang noted.
Wang believes that the change of attitude may indicate the coming of age of the cultural pluralism in Chinese society.
According to a recent poll conducted by professors Tong Shijun and Liu Zhongyu from Shanghai-based East China Normal University, about 31.4 percent of Chinese aged 16 and above, numbering about 300 million, are religious, which sharply contrasts to the official figure of 100 million, which has remained largely unchanged for years. Buddhism, Taoism, Christianity and Islam are the major religions, accounting for 67.4 percent of believers, the survey showed.
Official statistics indicate that China has only about 30,000 Buddhist monks and nuns. But "millions of Chinese nowadays cherish a strong affinity to Buddhist culture," said Zhang Shunping, a senior editor with the Beijing Readers Publishing Company.
Having a history of about 2,000 years in China, Buddhism has long fascinated Chinese people from all walks of life, ranging from emperors and feudal ministers, to the literati and people at the grassroots level, Zhang said.
"In a globalized era, the drastic social changes over the past few decades have confused and disoriented many people who have turned to traditional cultures, philosophies such as Tao Te Ching, Chuang Tzu and Buddhist scriptures for wisdom," Zhang said.
"Many of the Buddhist doctrines teach people to seek the truth, the good and the beautiful in their life," said Chen Yupu, a veteran landscape painter, devoted lay Buddhist and professor with Nankai University in Tianjin.
"Buddhist wisdom is open to anyone. Buddhism may take various forms, as a religious or a lay practice or both. It can be read as a religion, a culture, a philosophy or a way of life," said Zhang Shunping.
"Chewing over the koans and engaging in Zen Buddhist mediation have greatly helped sharpen my mind which is good for my health, my career and my family life," said Zhang.
"I have benefited a lot from my studies about Tibetan Buddhism," said a senior manager with a banking corporation in Guangdong Province identified as Liu.
"In dealing with the same people, same tasks in the same circumstances in my daily life, I have found much more joy, inner peace and satisfaction since I am guided by the teachings of Buddhism," he told China Daily.
Liu agrees whole-heartedly with what Chen Xiaoxu said about fortune and happiness. "If you earnestly apply the concepts of Buddhism in your life, you will find that your horizon for life is widening and you will no longer be slaved by burning desire for fame and money. With the inner peace being fulfilled, you'll gradually have a clear and balanced mind in handling your daily affairs," he said.