Duluth native teaches Buddhism's basics
by Linda Hanson, Duluth News Tribune, July 19, 2008
Duluth, MN (USA) -- Ever since he was a child growing up in Duluth, Steve Hagen desired to know truth.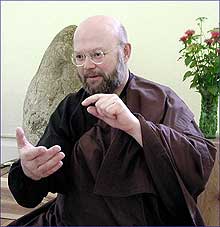 << Steve Hagen, Sensei
"I wanted to know what's going on and to not be fooled. I wanted to know what was real and genuine and true," he said.
That search eventually led Hagen to Zen Buddhism, which he has practiced for about 40 years. Hagen, 62, became a best-selling author of books on Buddhism and founded Dharma Field Zen Center, a meditation and learning center in Minneapolis.
On July 26 and 27, Hagen will give talks on Buddhism and meditation at the Unitarian Universalist Congregation of Duluth.
Hagen is known for making Buddhism accessible to people through his teachings and writings. Buddhism can appear daunting to newcomers, so he tries to keep to the simple basics of what the Buddha laid out, without the flavorings that foreign cultures have added to it, he said.
"What the Buddha was dealing with are universal truths," he said.
Roger Lips, a Zen scholar from Duluth, has known Hagen for about 15 years and called him the most distinguished Zen teacher in Minnesota. Hagen has worked hard to make Zen Buddhist teachings clear to people, and he helps people clarify their thinking process and see themselves clearly, Lips said.
The two talks Hagen will give in Duluth — "Turning Understanding on its Head" and "Be a Light Unto Yourself" — center on how Buddhism is about knowing and not about believing. It may seem like a simple concept, but it's central to the teaching and practice of Buddhism, Hagen said.
"What we think is true may or may not have to do with truth or reality, but because we believe it we often are consumed with it," he said.
For example, consider tasting a strawberry, he said. "It's not a matter of belief, it's immediate."
The title of one of Hagen's talks, "Be a Light Unto Yourself," reflects the last words of the Buddha. Through those words, the Buddha was telling his followers, who thought they needed him, that they needed to find their own direct experience of reality, Hagen said.
The practice of meditation helps people experience reality, he said.
"It takes quite a bit of discipline to realize what actually is happening and how it differs from what we believe," he said.
The best way to learn meditation is with a good teacher, Hagen said.
His recent book, "Meditation: Now or Never," is for people who are interested in waking up to actual experience, which is what Zen meditation is about, but who might not have access to a good teacher, he said.
"It's the simplest form of meditation," Hagen said about Zen. "Our minds are so complex, we don't easily discover the simple."
Rick Palm, who lives near Duluth, has been attending meditation retreats at Dharma Field since last fall. As his teacher, Hagen has pointed him in helpful directions several times through direct advice and example, Palm said in an e-mail interview.
Palm described Hagen as a decent and thoughtful man. "His teaching is clear, and he has a special ability to bring Zen to our Western understanding in his writing and talks," Palm said. "In addition to his depth of knowledge from traditional Zen Buddhist teachings, he has a solid understanding of science and draws from Western writers to illustrate his points."
Palm described himself as a beginning student of meditation and Zen, and said sitting meditation is the direct experience of Zen teaching. "While study is important, just studying and not sitting is kind of like reading cookbooks and not cooking," Palm said.
Palm has dabbled with meditation at several points in his life, but last summer he began a daily practice that he skips only when something unexpected occurs.
"[Meditation] helps me see directly that I am caught up in thoughts and concepts and miss a lot of what is actually happening as a result," Palm said. "Zen practice seems to bring balance to my day."