Buddhist nun Il-yeop
By Choe Chong-dae, The Korea Times, Dec 22, 2010
Seoul, South Korea -- I recently took a trip to Sudeok-sa (Sudeok Temple), which is nestled in the heart of Mt. Deoksung, Yesan, South Chungcheong Province. The temple was built in the 7th century during the Baekjae Kingdom. Sudeok-sa is a well known Zen Buddhist temple in Korea and one with a unique legacy.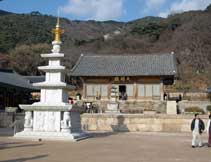 << Ven. Ilyeop (1876-1971) played an instrumental role in pioneering the feminist social action movement, during the gloomy period of the Japanese occupation of Korea. She once stayed at Sudeok-sa
Rev. Gyeong-heo (1849-1912), a great Korean Zen Buddhism master, lived at the temple and rejuvenated the Zen spirit in Korea by promoting the Zen practice center. Later, his disciple Ven. Mangong (1871-1946), continued his master's work by turning out many great disciples himself.
Sudeok-sa has a particular place in my heart because of Kim Won-ju 1(1896-1971), better known by her penname, Il-yeop. She lived at the temple after she was ordained as a Buddhist nun in 1933 and remained there until she passed away. I harbor nostalgic feelings of Il-yeop's literary works because of her influence on the history of modern Korean literature. Il-yeop was a pioneer feminist, novelist, poet and a Buddhist nun. She was one of Korea's most prolific women writers and considered herself a novelist and poet ahead of all other titles.
Her feeling of loss and isolation, due to the death of her parents and siblings at a young age, and her awareness of human morality and uncertainty would have had a profound impact on her writing and her path to becoming a Buddhist nun. Despite her tragic circumstances and unhappy first marriage, she continued her studies at Ewha Hakdang (predecessor of Ehwa Womans University) and at Tokyo English Institute.
Demonstrating great intelligence and a unique literary talent from early on, Il-yeop influenced the Korean literary society of her time. She wrote about activities that reflected the trends in the women's liberation movement and founded the Sin-Yeoja (New Women), the first women's literary magazine in 1920. Over the years, a great number of her critical essays, poems and short novels about women's liberation struggling against the oppressive traditions of the gloomy Japanese colonial period were published in such Korean daily newspapers as Dong-A Ilbo and Chosun Ilbo, as well as in literary magazines including Kaebyeok and Chosun Mundan (Korea Literary World).
During stays at Sudeok-sa, Il-yeop immersed herself in only practicing Korean Zen Buddhism. She wrote an autobiographic novel entitled "After I Burned My Youth" in 1962. The novel created a great sensation and drew the attention of many readers because it was the first time in 30 years that the novel had been published since she was ordained as a Buddhist nun,
Sudeok-sa also reminds me of a popular folk song about a Buddhist nun and the famous "Sudeok Inn," located in front of the temple. It was at this inn (now the exhibition hall of Sudeok Temple) that Lee Eung-no (1905-1992), a world famous Korean painter, lived and completed a painting on a rock. While living at the Sudeok Inn from 1944 to 1959, Lee became close friends with Na Hye-seok, another pioneer female artist, and Il-yeop.
"A Buddhist nun at Sudeok-sa," is also a popular Korean song about sorrow over secular love affairs. It was sung by singer Song Chun-hee a few decades ago. The song is still loved by many older people. It is presumed that the inspiration for the song came from the life of Il-yeop.
"At midnight at the deserted Sudeok-sa
A nun is reciting Buddhist sutras (sobbing), casting her lone shadow
Not forsaking her lover left behind in the secular world
Weeping alone under the candlelight in the temple hall
Ah, the bell of Sudeok-sa is ringing."
Although four decades have passed since the death of Il-yeop, the aura of her great literature has remained at Sudeok-sa. I admire her contributions to the world of modern literature and her pioneering steps for the liberation of Korean women.
----------
Choe Chong-dae is the president of Dae-kwang International Co. and the Korean representative of Compagnie Cotonniere of Paris, as well as a director of the Korean-Swedish Association. He can be reached at dkic98@chol.com.
TOP