Sixth Tzu Chi Relief Mission to Post-Tsunami Sri Lanka on the way
By Chiang Ying and Deborah Kuo, CNA, Jan 26, 2005
San Francisco, USA -- The sixth relief mission from the Taiwan-based Buddhist Compassionate Relief Tzu Chi Foundation to Sri Lanka following the Dec. 26 tsunami tragedy has left North America for the South Asian country to continue aid efforts there.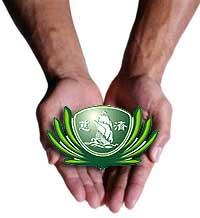 A total of 40 Tzu Chi volunteers from Canada and the United States are expected to reach Colombo, Sri Lanka Thursday, mainly to provide medical care and interview locals to gain a deeper understanding of their specific needs.
The volunteers are expected to stay there until Feb. 5. Tzu Chi has been in Sri Lanka's southern city of Hambantota, one of the hardest-hit areas, since Dec. 31, with Taiwanese medical personnel taking turns serving there. The Tzu Chi medical workers have treated an average of 700 people per day in the city over the past 55 days, said Ko Chi-she, a Los Angeles-based doctor who is heading Tzu Chi's sixth relief mission.
According to Ko, the mission's major tasks will be providing medical care and distributing rice to the locals of Hambantota, where the number of surviving tsunami victims is about 83,000. About 2,500 tons of rice will be distributed over two months to the locals, Ko said, adding that 2,000 cooking utensil sets will be distributed to locals in Tangalla, another southern Sri Lankan city that was hit hard by the tsunami.
In addition, Ko said, Tzu Chi has also begun to build 1,000 prefabricated houses in the most battered areas in Sri Lanka to help accommodate people displaced by the tsunami disaster.