Home Asia Pacific South Asia India


Taking hint from Traditional Buddhist Architecture, Architect builds Buddhist Learning Centre in Maharashtra
Newsgram, August 19, 2016
Mumbai, India -- A Mumbai-based architecture firm Sameep Padora and Associates have recently completed building a Buddhist Learning Centre in Maharashtra. The architect wanted to renew the lost traditions that went into making Buddhist learning and meditation centres.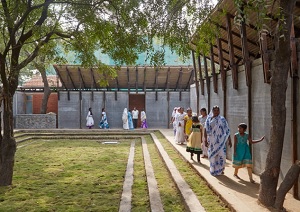 "Our approach looks to extend the idea of the regional paradigm whilst separating it from the pervasive image of what defines the local," said the architect to a news portal. The centre was built keeping in mind that not a single tree is harmed at the site or cut down during the construction. The centre was hence split up into 6 buildings, situated between gaps of heavy trees, , mentioned dezeen.com.

Such learning centres in Buddhism are also called Jetavan. A Jetavan is one of the most integral spaces of meditation in Buddhism. It was earlier a monastery donated to Gautam Buddha, outside Savatthi an ancient Indian city in Uttar Pradesh. The remains of Buddha's hut in Jetavana are still prevalent today.

Designed by 'sP+a' – Sameep Padora & Associates, this half-acre holistic Jetavan has been constructed by employing authentic and local artisans, villagers and naturally acquired materials. It also has a butterfly roof.

The traditional architecture also has dung flooring done by the local community, which also has antiseptic virtues. The walls were built using volcanic stone dust, in an attempt to revive traditional Buddhist architecture.





About Us
Get Breaking Buddhist News in your Email. Free subscription.

Please help keep the Buddhist Channel going

Point your feed reader to this location
Wikipedia: Buddhism by Country
Sangha Directory
Ecards
Wallpapers
E-Library
Archives
Sitemap
Submit an Article
Write to the Editor
Affiliation Program