Home Asia Pacific South Asia India


Kalachakra Empowerment-2006 gets rolling
Newindpress, January 6 2006
AMARAVATI, Andhra Pradesh (India) -- The Kalachakra Empowerment-2006 formally started on Thursday on the banks of the river Krishna here with the Dalai Lama offering the earth ritual prayers at the specially-built Kalachakra temple.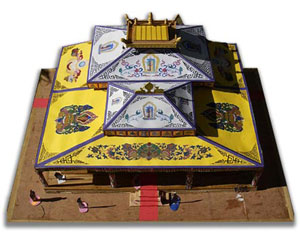 The Dalai Lama said the ritual preparations would continue for three days to remove all obstacles to Kalachakra Empowerment. Nearly 50 monks occupied the dais and chanted hymns.
Later, the Lamas seated in the front row on the dais, answered various queries posed by the other Lamas on spiritual enlightment. The questions related to Buddhist philosophical issues like pramana (reasoning), madhyamika (metaphysics) and pragna paramita (presentation of wisdom).
Representatives of the Norbulingka Foundation, Japan, the main sponsors of the event, were also seated on the dais.
Stating that Kalachakra-2006 would be the largest attended such event, the organisers remarked, "Nowhere the local government has involved in making arrangements on such a large scale.''
Cooperation and Transport Minister Kanna Lakshminarayana, local MLA D Manikya Vara Prasad and Collector G Jaya Lakshmi visited the Kalachakra arena and inquired about the arrangements with the pilgrims.
Over 40,000 monks and pilgrims from several parts of the country and also abroad attended the inaugural event.
Elaborate arrangements were made for the guests at the ritual place. Huge tents were pitched to accommodate monks and pilgrims. Separate enclosures were raised for the foreign visitors.
There was tight security at the venue and its surroundings.