Home Asia Pacific South Asia India


Japanese building school for poor in Bodh Gaya
by Priya Saxena, RxPG News Service, Nov 24, 2006
The school will be named "Japanese-Indian Friendship School". 'The project will not only help educate poor children but also strengthen Japan-India relations,'- Sane Sumi Inaba
Patna, India -- A Japanese body is constructing a school for Dalit children in a village near Bihar's Bodh Gaya, the birthplace of Buddhism.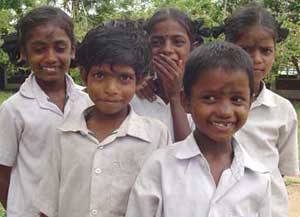 << Most of the school children are from the Musahar Dalit caste and have no access to basic education and health facilities
The school is coming up in Nama village in Bodh Gaya, where the Buddha attained enlightenment 2,550 years ago, thanks to the Neem Association of Japan.
'We have started constructing a school for children of the very poor to educate them and create social awareness,' said Sane Sumi Inaba, chairman of the Japanese association.
Inaba laid the foundation stone of the school Thursday. 'Some Japanese offered free voluntary work by carrying bricks, sand and cement,' he said.
The school will be named Japanese-Indian Friendship School. 'The project will not only help educate poor children but also strengthen Japan-India relations,' he said.
Thousands of poor, mostly from the Musahar Dalit caste, have settled in villages around Bodh Gaya. They have no access to education and health. Moved by their plight, Buddhists from Japan, Sri Lanka and Thailand have initiated projects to help them. Hundreds of Japanese Buddhists visit Bodh Gaya annually.