Home Asia Pacific North Asia Taiwan


Tributes paid to late Buddhist Master Sheng Yen
Radio Taiwan International, Feb 4, 2009
Taipei, Taiwan -- Top political figures in Taiwan have been paying tribute to the late Buddhist Master Sheng Yen. Sheng had been a key figure in the religious life of the country for many years.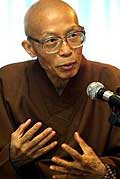 Sheng passed away on Tuesday afternoon at the Dharma Drum Mountain temple he himself founded. He was 79.
President Ma Ying-jeou and Taipei Mayor Hau Lung-bin were among the first to pay their respects in person on Tuesday evening.
Vice President Vincent Siew also visited the temple on Wednesday morning. He said Master Sheng had been an inspiration in his own life and that his willpower and concern for society were undiminished despite his ailing health in recent years.
Sheng was the founder of the Taipei-based Dharma Drum Mountain Culture and Education Foundation. In 1998 Common Wealth magazine named him as one of the 50 most influential people in Taiwan's history.
Leaders from Taiwan's opposition Democratic Progressive Party have also been to pay their respects, including Party Chair Tsai Ing-wen and former Vice President Annette Lu.