Home Asia Pacific South East Asia Myanmar


Senior Buddhist monk quits Ma Ba Tha
Mizzima, 8 June 2016
Yangon, Myanmar -- A Senior Buddhist monk, Parmaukkha, a member of the central committee of the powerful ultranationalist Buddhist monk organization Ma Ba Tha, has stepped down over political differences with the group, RFA reported on 7 June.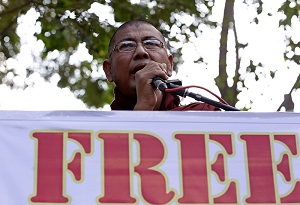 << U ParMaukKha, Nationalist Buddhist monk, talks during a protest rally against a Thai court's verdict sentencing to death two Myanmar migrant workers at the Bo Sein Mhan field in Yangon, Myanmar, 29 December 2015. Photo: Nyein Chan Naing/EPA

The group, also known as the Organization for the Protection of Race and Religion, has led demonstrations against members of Myanmar's Muslim minority, backed the passage of controversial laws on race and religion,and advised citizens to vote for the Union Solidarity and Development Party (USDP) in last November's national elections.

The organization passed out pamphlets during a conference it held, telling people to vote for the USDP in the elections, Parmaukkha told RFA, he said that he wanted Ma Ba Tha to stand free from party politics saying he didn't agree with the group's 'attitudes'.





About Us
Get Breaking Buddhist News in your Email. Free subscription.

Please help keep the Buddhist Channel going

Point your feed reader to this location
Wikipedia: Buddhism by Country
Sangha Directory
Ecards
Wallpapers
E-Library
Archives
Sitemap
Submit an Article
Write to the Editor
Affiliation Program