Home Asia Pacific South East Asia Vietnam


Dissident Vietnamese monk in tense stand-off with police
Brunei Bulletin (AFP), Nov 23, 2004
HANOI, Vietnam -- One of Vietnam's most prominent religious dissidents was prevented by police Monday from visiting the gravely ill patriarch of an outlawed Buddhist church, triggering a tense roadside stand-off.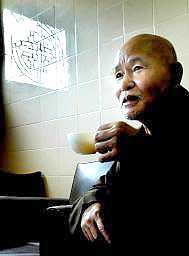 The vehicle transporting Thich Quang Do (photo, left), the deputy head of the Unified Buddhist Church of Vietnam (UBCV), and other senior monks was stopped shortly after leaving the southern business capital of Ho Chi Minh City.
Vo Van Ai, director of the church's Paris-based information arm, the International Buddhist Information Bureau (IBIB), said the monks had told him by telephone from the van that they had refused to move.
"Security police intercepted the vehicle and told Thich Quang Do that he must return to Ho Chi Minh City immediately for a working session with police," he told AFP.
The 2003 Nobel Peace Prize nominee refused, resulting in a stand-off in Dong Nai province, northeast of the city, that lasted for several hours.
"Around 100 plain-clothes police and thugs surrounded the vehicle on motorbikes and were abusive. The situation became very tense and Thich Quang Do decided the best course of action was to return to Ho Chi Minh City," Ai said.