Home Asia Pacific South East Asia Malaysia


Seeking a Buddhist Mother Teresa
BY NG SI HOOI, The Star, June 18, 2006
PETALING JAYA, Malaysia -- Someone like Mother Teresa could emerge among Buddhist women, to contribute to the people's wellbeing and to be a source of inspiration to men and women of all faiths, said Housing and Local Government Minister Datuk Seri Ong Ka Ting.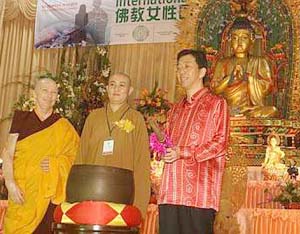 << IN PRAISE OF WOMEN: Ong, accompanied by (from left) Sakyadhita president Karma Lekshe Tsomo and Malaysian Conference Planning Committee chairman Chang Heng, opening the conference on Buddhist women in Puchong yesterday.
He said Buddhist women could draw up core teachings of their faith and belief to provide a better understanding of the religion as well as to promote local culture and religious values.
"Just like women from other faiths, Buddhist women have the intellectual and spiritual capabilities, leadership qualities and educational training to contribute towards making our community a better one," Ong said when opening the Ninth Sakyadhita (Daughters of Buddha) International Conference on Buddhist Women near here yesterday.
More than 500 participants from 45 countries gathered at the Sau Seng Lum Exhibition Centre in Taman Putra Perdana, Puchong, for the conference, themed, Buddhist Women in a Global Multicultural Community.
Ong said the conference theme was both timely and appropriate, as it highlights the important role that women play in Buddhism.
The event, held every two years in different parts of the world, is jointly organised this year by the Sakyadhita International Association of Buddhist Women and the Buddhist Association of Malaysia.