Home Asia Pacific South East Asia Singapore


Thai Buddhist temple to undergo facelift
By Jennani Durai, The Straits Times, May 5, 2012
$5.5m project will add space to Jalan Bukit Merah shrine
Singapore -- The oldest Thai Buddhist temple here will get a drastic facelift by next year.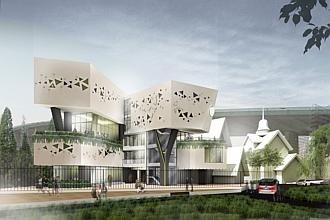 Only the main shrine of the 89-year-old Wat Ananda Metyarama temple will be preserved in the renovation; everything else will be built anew.
Temple officials, timing this announcement for Vesak Day today, unveiled plans for a futuristic- looking new building on the same site in Jalan Bukit Merah.
It will occupy 1,500 sq m, more than twice its current 600 sq m of space, which means the temple will finally be able to have the dedicated classrooms its minders say are sorely needed for lessons on the faith.